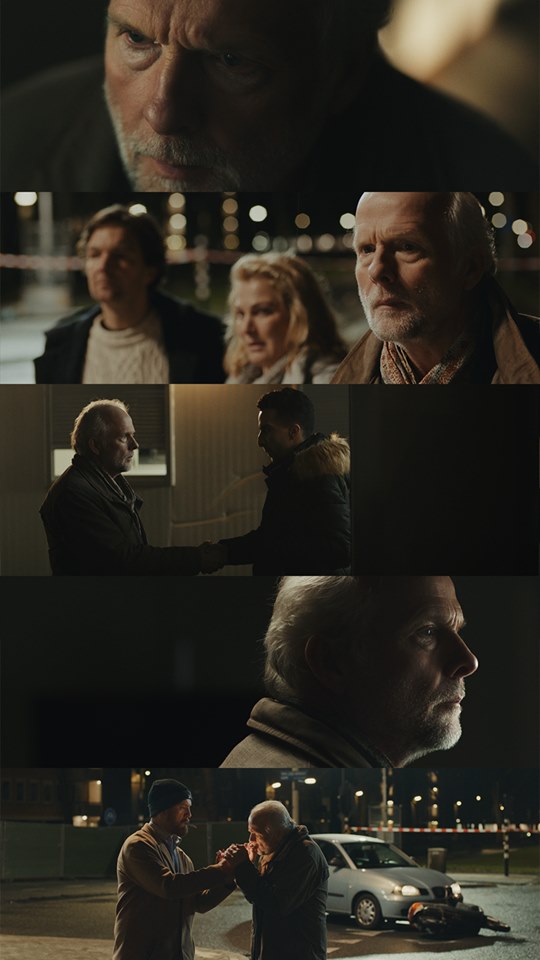 The biggest challenge in sound design for this film was designing the sound of the environment. People are working, communicating and moving through the set. Production sound set up an ambisonics mic to record the ambiance of the actual shooting of the film, so we had quite a lot of material to work with. We layered that with all kinds of other sounds like extra dialogue, sound effects and foley.

Next to recording foley for the characters onscreen, we also had to record a lot of foley to make the space feel alive. Walking, clothes, handling of cases, handling of equipment, you name it. We even recorded Gerard's breath in a studio so we could get really close and create an intimate feeling.
On a rainy evening, Gerard's lover Marco gets hit by a scooter. Marco died not long after.

Years later the legal system still has no clue on who of the two suspects was actually driving the scooter. A reconstruction will hopefully shine a light on who is to blame for the accident.

For the investigators a reconstruction of an accident is just another day at the office, but for Gerard it's a night full of memories and emotions. Which steps does he have to take to find closure? Will a conviction do the trick or will it take something else to process his grief?
Cast: Jaap Spijkers, Anneke Blok, Ronald Top, Tijn Docter & Reinout Bussemaker
Director: Christian van Duuren
Producer: BIND Film, Rob IJpelaar
DoP: Bert Pot
Editor: Erik ten Brinke
Color grading: Sander van Wijk
Music: Joost van 't Hoff, Elephant Ears
Sound design & Mix: Elephant Ears
Mixing studio: Studio Bart Jilesen